The GVTC Foundation recently partnered with the Comal County Friends of the Night Sky, a local 501c3 non-profit organization working to educate Comal County residents on preservation of the Texas Hill Country.
Formed in 2020, the group provides initiatives to facilitate night sky friendly lighting to improve the night sky and has established programs created to share the importance of reducing and reversing light pollution caused by homes and business exterior lighting. In addition, they provide information on how to make their fixtures dark-sky compliant while maintaining security and safety. The Comal County Friends of the Night Sky is a non-profit that promotes win-win solutions that allow people to appreciate dark, star-filled skies while enjoying the benefits of responsible outdoor lighting and preserving our County's rural lifestyle. By providing leadership, tools, and resources for individuals, policymakers, and industry, The Comal County Friends of the Night Sky work to reduce light pollution and promote responsible outdoor lighting that is beautiful, healthy, and functional.
After learning more about the mission and program, The GVTC Foundation approved a grant in the amount of $3,600 to help fund the Night Sky program.
Sonia Aguillon, President of The GVTC Foundation, said, "GVTC and The GVTC Foundation are deeply connected to the community and our customers. We are grateful for The Comal County Friends of the Night Sky efforts to educate and preserve the beauty of our service area so that it doesn't go unappreciated."
The GVTC Foundation is a funding 501c3 organization operated by GVTC Communications Employee Volunteers. 87% of GVTC Employees participate in the payroll deduction program, 100% GVTC Board of Directors contribute, and these funds are matched by GVTC at 150%. In addition, over 11% of GVTC customers are enrolled in the GVTC Round Up for Change program and their donations are matched at 100%. Founded in 2006, The GVTC Foundation has supported the community with over $5.9 Million dollars focused on Health & Human Services, Education, Youth Programs and Services and Cultural Programs. $.96 of every dollar raised, is distributed locally. In support of their mission, The GVTC Employees volunteer in the community, contributing over 27,000 hours in 2022. To learn more about The GVTC Foundation, please visit gvtcfoundation.com or email info@gvtcfoundation.com.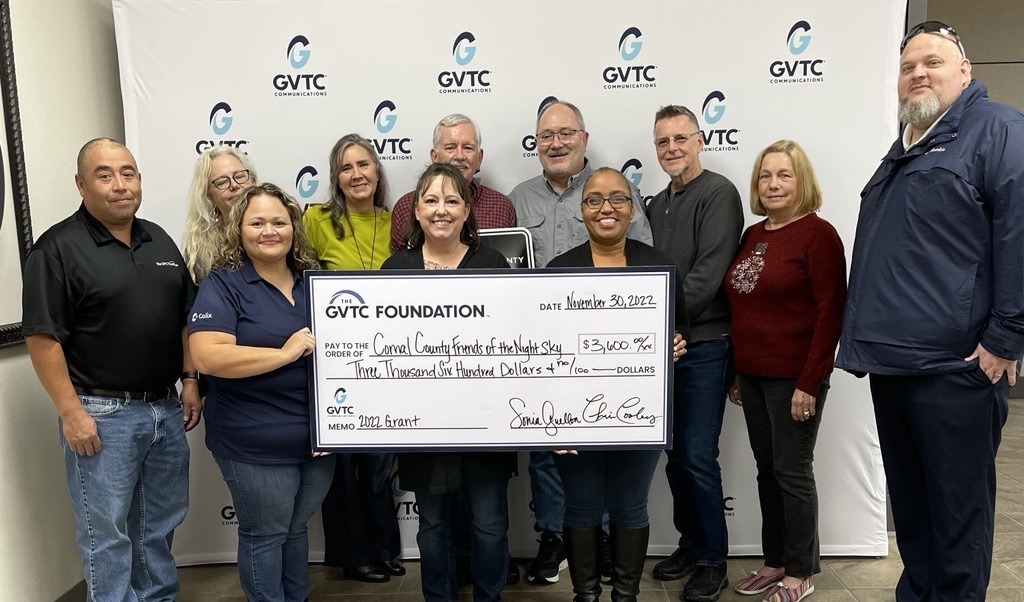 Front Row (GVTC): Rudy Soto, Director; Sonia Aguillon, Presiden;, Tiffany Murphy, Secretary; Marquita Dade, Director; Stephen Haynes, Director
Back Row (CCFNS): Betty Buckley, Director; Michelle Molina, Secretary; Larry Wells, President, Steve Ellery, Vice President; Eric Erickson, Treasurer; Jennifer Carson, Director